Carpatia Divide 2019


Day #1 When I was terribly wrong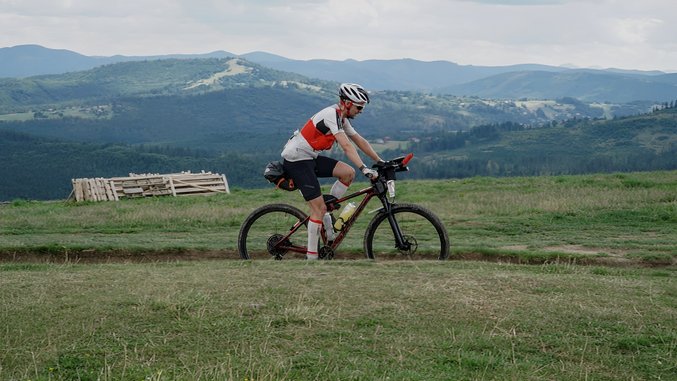 I signed up for Carpatia Divide at the end of April. There wasn't much information, because it was the first year of the event. For some time I was actually thinking it's some kind of scam for too-enthusiastic bikers. From what I understood, there was a precedent race called Transparatia, which was more or less ordinary mountain bike stage race. But CD was going to be a classic bikepacking adventure in a remote location and without any kind of support – as I like it.
In the Czech Republic, we have a race called 1000 Miles Adventure. The starting list is full in a matter of minutes. That wasn't the case with Carpatia Divide so I had a few weeks to think about my participation. I was attracted by:
Trying something new. New roads, new country, new experiences, … It follows the southern border of Poland, through the Carpathian ridge and it ends near Ukraine.
The route is only 600km long. When I compare it to my previous race, it was "a trip around the neighbourhood"
Even though the race is abroad, it starts only a few kilometres beyond the Czech borders.
And they had a nice trailer, that looked beautiful and romantic. Screaming and panicking was not recorded in that short movie…
I had one free month between my bikepacking races. It might be enough to regenerate to 90% of my capacity, but definitely not enough to improve my physique. I had a few longer rides just to remember how to pedal, but nothing serious. The only mistake I made was a running race, I attended 5 days before the race.
I was trying to go easy, but … it was a race… 19 kilometres with 700 metres of descent and my thighs were destroyed. At least I had some fun.
But there were other ways how to improve my chances in the race. I made various changes in my equipment based on my fresh experiences:
I ditched a hydration bag and replaced it with the two bottles on the frame. I reduced my capacity of water from 3l to 2l. Based on the weather forecast it wasn't going to be that hot. But I had a backup plan to put one more bottle into my stem bag if needed it.
I went from a 5l running vest to 2l. I had all the pockets available without taking it off. I could also wear a jacket on top. I could probably do it without the vest, but I wanted some things like a phone or ID to always be with me.
And I ditched some other equipment – bivy bag, spare shorts and spare socks and got a better spoon to eat pâté.
I put aero bars on my bike. I tried them out for 14 days prior and I loved them on the road. I hoped it will allow my fingers to ease off a little bit. My nerves weren't regenerated from the previous race yet.
In general, I was confident with my equipment and when I finished the race, I was thinking the same. There is of course always something to improve…
The last part of the preparation was a little bit of map planning. I used mapy.cz to mark some shelters and shops and petrol stations on the road. I had no cover against the rain, so it was important for me to know where I can sleep. There was a lot of grey areas with nothing available, but I was optimistic. 600 kilometres? Come on. I could do it in three days…
The first at the start, the first at the finish?
I took a train to Český Těšín from Prague. I was a little bored because I didn't have anything to read and I couldn't use my phone because I was saving the battery. I didn't even take the AC power plug and I was counting on my power bank only. It's because the plug is around 50 grams which is, let's say, one-third of the T-shirt.
I arrived in Těšín at ten o'clock in the evening and because I was too lazy to find some accommodation, I biked around 10 kilometres to an outdoor shelter. At least I could use it as acclimatization to the cold and sleeping outdoors.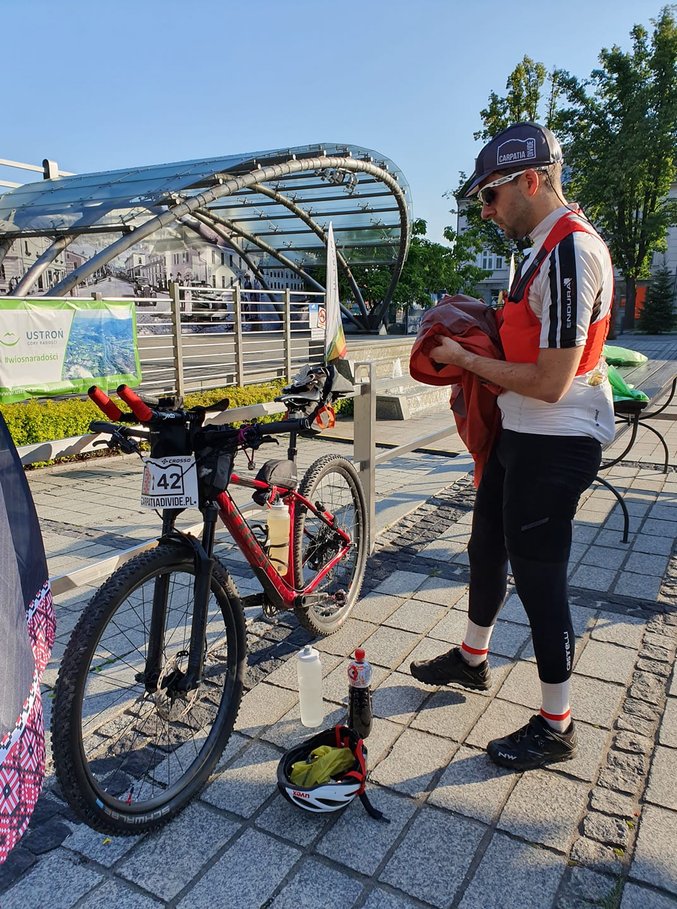 It wasn't the best decision. It was so cold, that at 2 am in the night, I had to put on my entire wardrobe. At least I had something to wear…
I was woken up by pigs and chickens at a nearby farm. I ate two sandwiches and waited for the sunrise, which would provide me with some warmth. It wasn't enough to only think, that the cold is only a state of mind.
When I arrived in Ustroń, I was the first racer there. I hoped it was a good sign. I got a cycling jersey, a cap and the starting number. I had a nice conversation with Leszek, the race organizer. I told him about my worries, that I won't have enough technical skills for the hard sections. When I told him about my experiences with the 1000 Miles Adventure race, he told me I will be ok. I was relieved.
To the top
It was two hours before the start of the race so I was wandering around and examining equipment of other racers. Many of them had a full-suspension bike, so it was looking like a tough ride. Only a few put their faith into a gravel bike. It was hard to tell what is the best choice, since you can see the track only on a map. You won't see the exact road condition from air. And the most decisions were taken based on a basic rule that the best bike is the one you have.
We set off at ten o'clock and Leshek led us through the city park. In the beginning, I met a Czech guy in this large group. He wanted to go on 1000 Miles, but after registration, he ended up as the 200th alternate, so he decided to try Carpatia Divide instead. He told me he went through the first part of the track and the total ascent was brutal. We chatted a little, but when the road got wider and the starting field was splitting up, I started to ride a little harder.
On the first hill, we went from 350 metres to 1000 metres above the sea. Asphalt road changed into gravel and then into forest path full of big rocks and slippery mud. It was a few kilometres from the start and I went for pushing the bike. Only a few riders were trying their luck in the saddle, but I saw that as an unnecessary effort. At least I got a taste of what I can expect.
I was surprised by how many people were hiking in the mountains. It was like riding in city streets. I was told later that it was a national holiday in Poland – Armed Forces Day and also the Day of the Assumption of the Virgin Mary.
I continued up and down on Czech-Poland borders. Since we just started I was pretty fresh despite the elevation gain. Based on the forecast it was going to be the hottest day of the race, so I was glad that I met a local fan. He was giving out water to everyone. Thanks.
My head is too big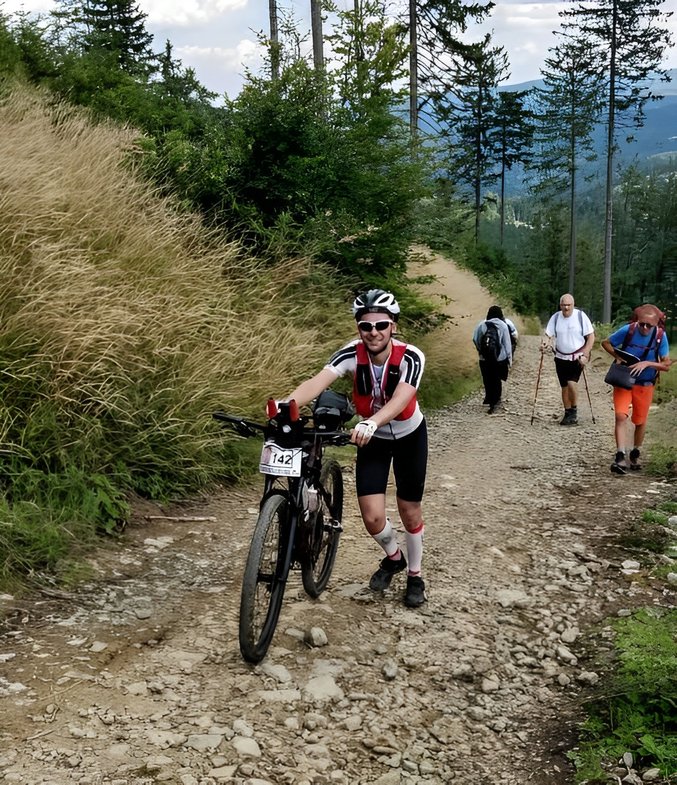 Soon I faced the downhills with huge rocks. Some racers just flew next to me in full-speed like they were on an asphalt road. I didn't understand this. I kept myself on the edge, where there was the least amount of rocks and I was trying to get down through nearby forest paths.
After a short gravel traverse, we went back to the technical singletracks. But this type was the right difficulty for me. Hard enough to keep my full attention, but no so hard that I would have to go off my bike. It was a beautiful road on the ridge of the mountains and I loved that.
I met a guy with a GoPro camera, who was filming some shots for a movie. He asked me for a short interview. I told him I would like to end up in the Top Ten. Since my statement was now eternized, it was my destiny to fulfil it. And it wasn't an easy task.
I topped up my water in the village – I asked some lady in her garden (proše wodu) and I was ascending on a narrow asphalt road. I felt weird. Like really weird. I stopped being myself. I was seeing myself as a third person. Something was wrong … it was the racing cap.
I will try to explain it. I wasn't on drugs. I swear. I just have a huge head. The cycling caps are usually made in one universal size, which is just too small for me. I cannot recognize it immediately. It usually takes a few hours. That's why you should never try anything new on the race. I should have sticked with my XXL banana hat from Aliexpress.
I used my knife to cut the rubber band of the hat and gave my brain a little space. It was better… But the ascending was still hard.
Race in a race
Until Wielka Racza it was tough, but rideable. From the Racza, where the track started to follow the border with Slovakia, it was pure insanity. I was just pushing the bike for the next 15 kilometres. At one point, I had to use all my force to get to the top of the slope. I was moving step by step. I could not find the hard ground as I was slipping on mud. It was just hell.
I run out of the water and the spring I was counting on was dry. I couldn't eat because I was feeling reluctance against the food. I felt really bad.
And there was this local hiker. We had a little challenge who will be faster. He had it much easier without the bike. Now I finally understand why people go to the mountains without their bikes. I lost him after a few kilometres of hard effort. He was just too fast for me. My biking honour was crushed.
At 8 o'clock in the evening, I stopped at the cabin under the Rycerzowa mountain. I met three other riders there and we shared a "what the hell was that" moment. I was smashed. It was much more difficult than my previous races. I don't think I have ever pushed my bike for so long. Or maybe it was just an instant emotion from the current misery.
They didn't cook in the cabin so I just took water.
It was getting dark. I turned on the lights and headed downhill. I was 100% focused on the road because I didn't want to end up in a scarp. The gravel path was followed by an asphalt road slightly downhill, which I really enjoyed. I finally used the aero bars.
I stopped for a moment in Rajcza. I had to prepare my plan. It was too early to sleep and a river was nearby, so it would be too cold there anyway. Next shelter was somewhere in the mountains. It looked close on a map, but the reality crushed me.
The bed journey
In the gravel ascending I was caught by Bartosz Świderski. We chatted and discussed our strategies. Not many Poles spoke English, so I was glad I clashed with him. He had much more equipment than me. He had a full sleeping set. I only had a sleeping bag, so I relied on shelters.
We split in a steep uphill. There was a lot of stones, so it was hard for me to even push. I should have strengthened my arms. The crisis had come to me. I was so hungry, but I was just unable to eat. I was barely moving. I forced myself to eat a few pieces of dried pineapple. I got out from the worst, but my problem wasn't solved.
The road was following the edge of the mountains. It was a really narrow pathway with roots, rocks and mud and stream intersections. I didn't have the energy to ride a bike. To get off and on a million times again. The shelter was far away and I had to continue forward step by step.
I got there after three hours of pushing. It was one hour past midnight.
I didn't have a picture of the shelter, so I didn't know what to expect. When I saw it, I was so happy. It was an abandoned shack. It had walls and a roof. The windows were smashed and the doors were missing, but it was ok for me. I swept broken glass from the ground and put my sleeping bag on the floor. A bird family was a little angry that I disturbed them. But when I turned the lights off, we went to sleep together.
For the next few days, I was expecting only the worst. That day I biked/hiked 120 kilometres and ascended 4500 metres. I knew then that this will definitely not be a three-day trip.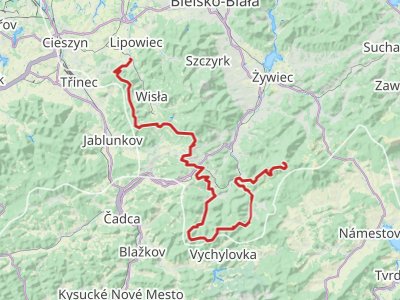 118km

Distance

4,424m

Elevation

15:04

Duration
Explore activity
Published November 30, 2019 | #ByHumanPower #Races #Bikepacking