West Carpathian Challenge 2022 🥇️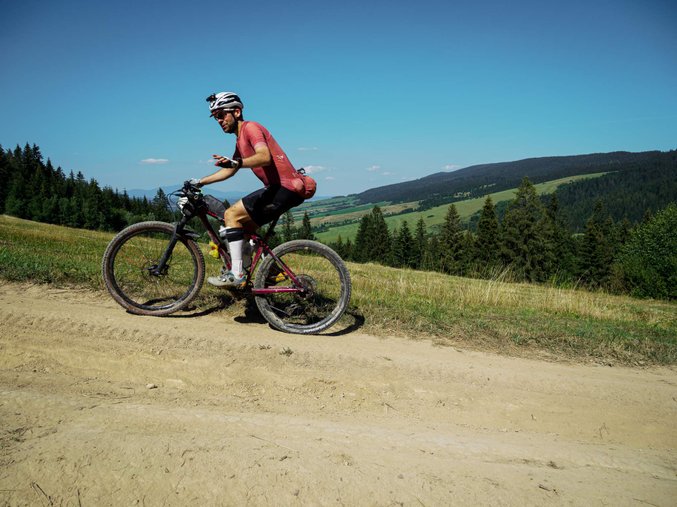 I had imagined West Carpathian Challenge as a sweet treat after a tough season. It might feel strange to think about end the season in early August, but bikepacking racing is draining both in terms of time and energy. That's why I chose this shorter challenge, which is just 600 kilometers long and conveniently located. And the bears... they make everything more interesting.
I didn't do much bike training. After the Hope 1000, I mostly licked my wounds and focused more on running. My bike sadly watched as was reaching more for my running shoes. However, I wasn't planning to head to Slovakia unprepared. This could be a great testing ground where I'll completely discard the rule – "don't try anything new in a race."
I kept an eye on the weather forecast. The first day was supposed to be extremely hot, but we'd be in the shadow of the mountains, so it shouldn't be too bad, and the next day would be cooler. I wasn't expecting any heavy rain, so I could travel light.
I carefully marked springs on the map to ensure I never ran out of water. I also marked a few shops where I wanted to buy supplies. I was prepared for some improvisation along the way. The marked points on the map mostly serve as psychological milestones, so I won't have to constantly count kilometers to the finish line.
Equipment Tuning
I got new handlebars with a 16° backsweep from SQlabs, which should help with numbness in my thumbs and other inner fingers. I had some issues with my tires, so I finally ended up with Schwalbe Racing Ralph & Ray, which have never let me down.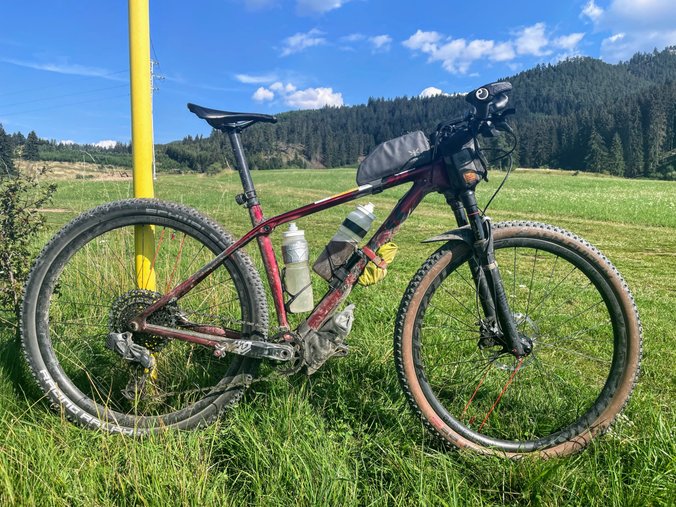 I was also interested in trying out Cush Core rim inserts. It wasn't so much about puncture protection, but more about the promised vibration damping. I've been paying close attention to tire pressures lately, so I checked them with an electronic gauge before starting – 1 bar at the front and 1.1 bar at the back. It's worth noting that the pump and the gauge give me very different readings.
I managed to get rid of the saddle bag, which helped on descents, and I minimized the number of bags I carried. For testing, I had a musette from Apidura. It's a very compact bag, which I carried in my jersey pocket, intending to use it for bulkier bakery products. Once I finished eating, I could pack it away again.
The plan was clear. Start at my own pace and avoid getting pulled into any sprint races. On the first day, I intended not to push too hard, to prevent the sun from draining my energy like in Switzerland. Plan to arrive at the checkpoint in the morning, refuel, and allow myself an hour break without any guilt. After that, push towards the finish. And if things don't go as planned, I'd crawl into my "corpse bag" – a rescue bivvy – and take a 15-minute rest.
Ready to Start?
I took the Pendolino train to Rožmberok and warmed up by cycling a route similar to the 1000 Miles. It was hot, but maintaining a low pace made it enjoyable, and I could appreciate the views. I capped off the day with a triple serving of ice cream and then headed to the campsite. As it got darker, locals warned me to watch out for bears. Well... this should be interesting.
At the campsite, I had pleasant chats with other participants and completed the race formalities. I would never thought that someone would move an eyebrow because of me, let alone start riding a bike. I am glad that my occasional posts are an inspiration for people.
I settled down on the grass under a tree, inflated my sleeping pad, and enjoyed the night. Maybe next time, I'll bring a pillow! I had some trouble with my neck 😂 But who needs to turn around when all the action is up ahead?
A bear didn't eat me during the night, so I was almost ready at the 9 a.m. Why almost? Somehow, the race started without me noticing 😅. Perhaps I was too engrossed in conversation and lost track of time. I certainly wasn't on my bike, but the race had begun, heading uphill.
After about 10 minutes, once the lead pack had disappeared, I could settle into my rhythm without any distractions. We were riding along the border of the Tatra National Park, and the roads were fantastic! And what's more, I finally saw the Low Tatras from a distance. I remember during my first 1000 Miles in 2015, when I first saw real mountains. Now, I was looking back from where I once looked up... and it was a sight to behold.
Neither rain! Nor wind! Nor sun!
The descents are finally starting to work out for me, so I managed to overtake a few fulls. However, I'm not taking too many risks. What's important to me is that even at higher speeds, I don't lose my confidence. I just started to believe in myself more. And immediately, everything improved and became more enjoyable.
After the Tatras, I flew into Kvačianská valley. There were far more tourists than racers, but if we respect each other, there's room for everyone. I climbed a wonderful forest path, and the surrounding coolness was a relief. If only every day was like this...
But of course, that wouldn't be Slovakia! When I faced a sun-baked meadow, I remembered I didn't have any sunscreen! I forgot to apply it at the start. I quickly lathered up, hoping the white cast would eventually disappear...
Good preparation proved to be crucial. Kryštof Leffler rode with me for a while, immediately asking about water. I promptly informed him that there was a spring 500 meters ahead. That's probably why he tried to stick with me.
I bypassed stagnant water, but from running sources, I drank almost without limit. I've long forgotten about previous experiences from Bohemia Divide. The first serious climb awaited me after Tvrdošín, and with it came my first crisis. The ascent through a meadow offered no shade and was so steep that pushing my bike was the only option.
But as crises come, they also go. The key was to keep pedaling. Sure enough, I restored my spirit at the crossroads "Při studničce", where I fully refueled. Since WCCH was primarily an experiment for me, I enhanced my drink with a cube of beef broth. And oh, the water tasted great. A pleasant goulash undertone.
Míša against the crisis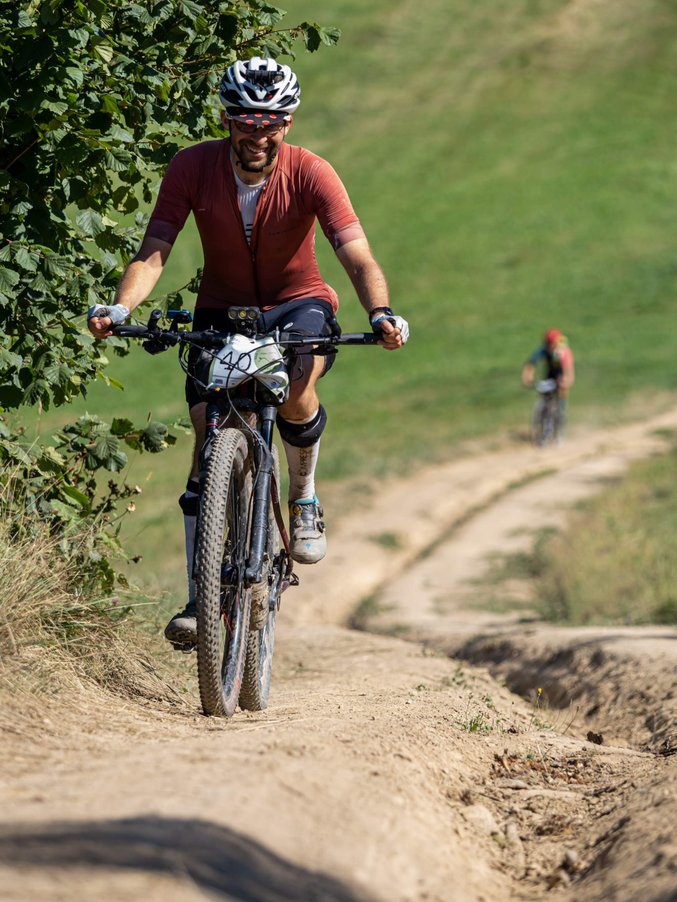 We zigzagged around puddles at the top. I had to be constantly alert, looking for a path. I wouldn't want to be here when it's wet. Even though this ridge section slowed me down, I enjoyed it.
Then a steep descent into Hrušín, one Míša icecream and an ice tea at Vaňkov's, and off to the hustle and bustle around Orava. The path was flat and sheltered under trees. It was clearly a resting segment.
Back into the hills! The route led me to the Nová Bystrica reservoir. Beautiful wide roads, stunning views, and a good mood accompanied me. All that left me when I started the ascent to Mravenečník. Only now I realize it's (almost) a legit 1000m peak.
I couldn't keep my heart rate down and started to overheat. Even the broth in my bottle didn't help. Breathing was hard after inhaling dry air all day. I sat in the shade to catch my breath. The second crisis was peaking! I resolved it simply. I adopted a straightforward strategy. I will climb each hill as slowly as possible! The strangest winning tactic, but it paid off.
The slope eventually eased, and I continued my relentless pace in the switchbacks until I reached the top. Somewhere I lost Kryštof, who was fixing his navigation. It was the last time I saw a racer on the route. Not that I minded 😅
I descended to Bystrica and got back in the saddle for a relaxing stretch. Night had fallen. Insects were attracted to my light, so I tried not to open my mouth.
Spirit breaker
When I arrived in Krásno nad Kysucou, I had an inkling of what awaited me. The drunken yells of youth were the last human sounds I heard that night. My bike tirelessly led me into the deep and high Javorníky mountains. While planning, I traced the little paths and realized there wouldn't be any smooth asphalt roads here. Mother nature took care of the entertainment.
I can't recount everything I encountered in the Javorníky. It was dark, and every turn looked the same. That made it even harder. Despite everything, I believed I'd reach the CP by dawn. But I was sorely mistaken. I maintained a pace just under 10 km/h and would consider it a good performance.
This section is meant to break a person's spirit, but it broke a spoke on my wheel instead. There was this odd road, eroded with a very loose, sandy base. Riding was challenging. I decided to push for a while, but my conscience nudged me to continue. I mounted and after five meters, a stick got jammed into my wheel's spokes. At first, I thought everything was fine, but then I noticed the broken spoke.
Honestly, I was somewhat relieved. It was a valuable experience. I always feared this, and now I know it's not the end of the world. I figured riding with one missing spoke wouldn't be a problem, but I'd be careful on descents. The challenge was the hanging spoke. I used tape to attach the part near the hub, but couldn't do the same near the rim. I chose a radical solution and snipped part of the spoke. Little did I know, the nipple would fall inside the rim and rattle there for the next 350km 🤬😂 A lesson for next time.
At least I stumbled upon vending machines in the middle of the mountains. So, I got a hot chocolate, a tube of lentils, and felt slightly better. However, the biggest relief was the sunrise.
Restart
Even though I carried a lot of food, I was hungry. I didn't want to eat; my digestion was lazy. When I forced myself to eat something, I just felt sick. But I knew exactly what I needed. I needed a checkpoint. I needed to sit down. Rest. Eat. And move on.
I still had a few hills to tackle. At one point, I got lost and dragged my bike through the bushes, as often happens to me. And I saw a vehicle spraying manure across a field. So, another experience. Luckily, I wasn't downwind.
After 24 hours and some distance, I arrived at the checkpoint. It started to rain, and I secretly hoped to arrive with epic raindrops ringing, but it was just a passing shower. I received a warm welcome. And immediately, a portion of goulash was placed before me. I charged some things and took another serving of goulash. The local tech guru polished my bike's sliders and oiled the chain. Meanwhile, I had goulash no. 3.
At the checkpoint, I also met Lukáš Klement, but he didn't look like he was in a racing mood. He had a crash during the descent... and due to some, let's say unpleasant health issues, he didn't continue. It's a pity. As it turned out, I was in second place at that time. I hadn't realized, because I hadn't checked the tracking yet. As expected, Jakub Jaroš was already somewhere ahead with a three-hour lead. I wasn't in a rush.
In the end, my laziness stretched over an hour. I had to tactically wait because performing superhuman feats with three servings of goulash in my stomach was not feasible. After climbing 100 meters... who's calling me? I forgot to take my gear shifter charger at the checkpoint! So, I turned back swiftly and even grabbed a roll with an egg for the journey. At least something for my extra kilometers.
The first hill, it didn't seem like I was gaining momentum. Though it was on asphalt, my legs weren't up for it. Plus, with the bellyload. But I was reassured it would only get better. After all, to Trenčín, it was supposed to be just one hill. Then, I really hit the cycle path, where it was swift.
I even passed the "CP1 1000 Miles Adventure" as they were opening. I went in, focused on the pastries, and said I didn't know what they were, but I wanted five. They were dumplings. Poppy seed and raspberry-filled. I ate one and put the rest in my bag.
In Trenčín, a firefighters' ball was taking place, but fortunately, I escaped before it fully kicked off. I swayed along the former forest railway. A local cyclist found me there and rode with me for a while, so I had company.
When I got out of the hills, I turned on my data. I received a few hours old message from Jakub that his knee betrayed him, and he's quitting. I truly didn't wish that for him!
However, since it had happened, I thought pragmatically. I found myself in the first position. Interesting. And since I was there, I wanted to stay there. For the first time, I opened the tracking and saw that the second place, Martin Novák, was not far behind. I had the wind at my back, so I dove into it.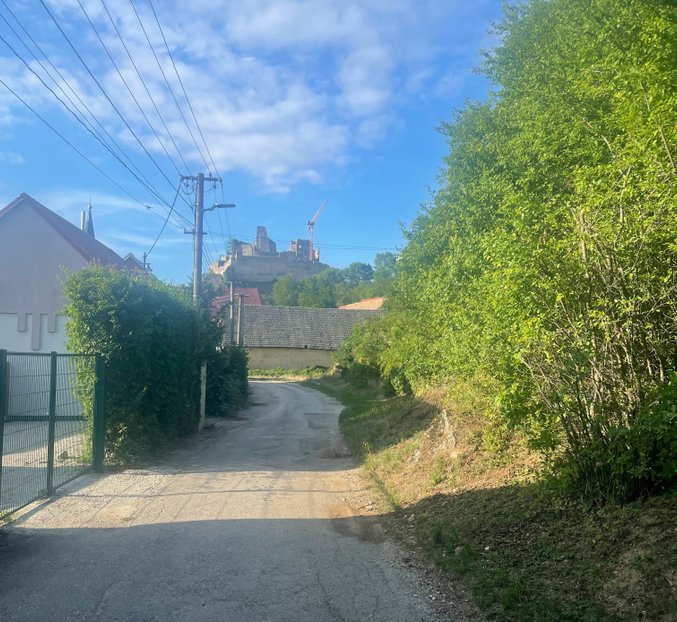 Insurance
Evening was approaching, so I took advantage of the gas station shining on my route. Probably the last place to replenish supplies. I bought 4 pastries and a coke, which should last me until the end.
Right at the first hill was the famous Čachtický Castle. Or at least I don't know that it's famous, but it seemed familiar, so I was looking forward to it. Unfortunately, I only saw it from afar and recognized it more from a signboard. They say that the conservationists didn't let us near it.
Night fell. From the map, I remembered that I now faced a climb to Velká Javorina – which definitely wouldn't be easy – but at
least I knew about it. Going uphill, I was always catching a glimpse of a distant light, hoping it was Velká Javorina. Finally, I saw lights not far away. Bingo!
When I got there, I was only about 50 kilometers from the finish line. But, there were still some hidden obstacles ahead. The gravel road gradually turned into a mud swamp. I was dragging my bike more than riding it. It was a test of my nerves.
After what felt like an eternity, I reached the asphalt again. Now just a straight shot to the finish. Or so I thought.
It was downhill, so I let the bike go. Suddenly, my bike twisted strangely, and I found myself flying through the air, crashing to the ground. It was a moment that made me remember that even if you're tired, you can't relax for a second.
I brushed off the dirt, checked if everything was okay and if I was bleeding. It seemed fine. I remounted and pedaled to the finish. When I saw the lights of the finish line, I couldn't believe it.
Despite my fall, I was the first to finish! It was an amazing feeling. And I was greeted with a roaring applause from the other participants who had already completed their journey and the organizers. I felt immense gratitude.
Finish, Finish, Finish
The last kilometers to the finish are always the hardest. They drag on forever. It's not as enjoyable anymore. Every hill is an obstacle. Yet from that last stretch, I had a fantastic experience. I was counting the final meters to the finish… and suddenly my route ended in the middle of a forest. Garmin must have made an error. I noticed before the start that my GPX was shorter than the official one from the organizers. Fortunately, I had the original route on my mobile, so I mounted it on the handlebars and rode the last two kilometers according to it.
The welcome at the finish was wonderful. I was glad to sit down. Ate half of the pastries. Took a shower. Ate. And felt good. And you may ask, what's the difference between finishing 1st and 10th? It's the same. The joy is mainly in the fact that I finished. That I'm in one piece, that I experienced something and somewhat enjoyed it.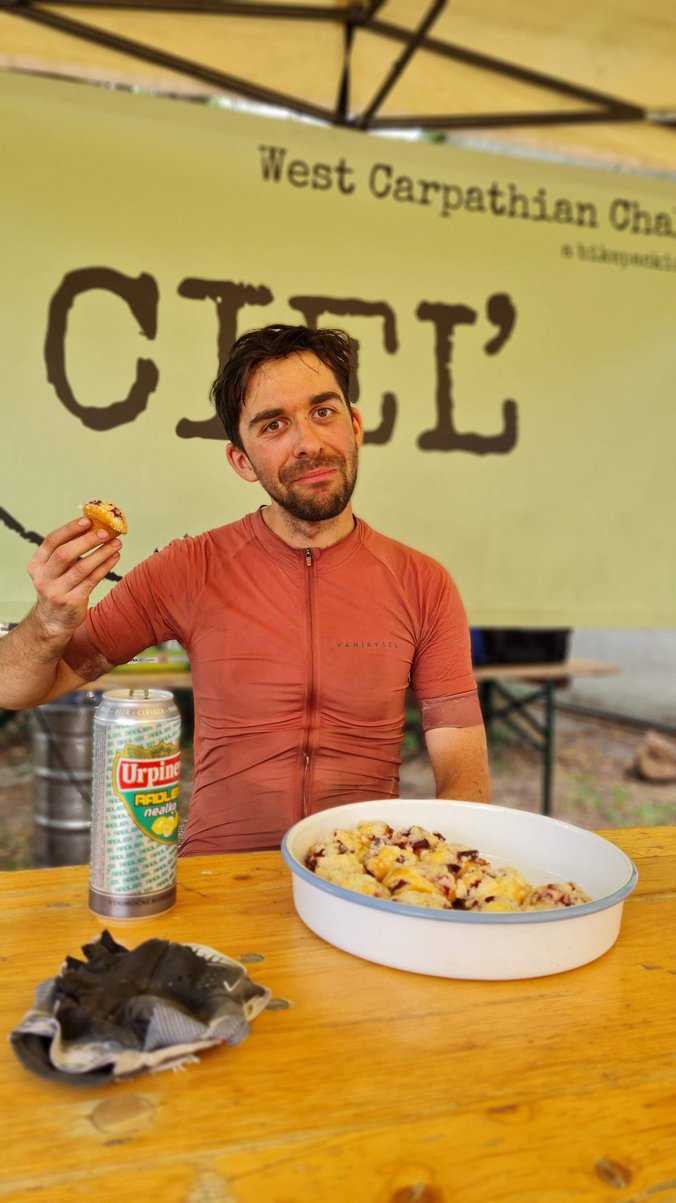 If you asked me about the route, it was well-balanced. Yes, I pushed, there were steep and challenging sections. But they were balanced with fast transfers. I enjoyed many descents. I walked one downhill, mainly because I feared for my damaged bike. I don't have much experience with what a missing spoke can do. I wasn't afraid of bears, but that doesn't mean we should trivialize encounters with them. One shouldn't fear them, but they deserve respect.
Body good. Legs good, knees a bit tired at the end when I was pushing because I was eager to finish. No problems with my hands – I braked with one finger till the end. I felt my butt, but as long as I sit and pedal, it's still fine. Apidura musette - bad. It's definitely not for rough terrains, or I'll have to learn how to carry it properly. It constantly swung to one side or a bit and it was annoying.
Next time, I'll definitely need to improve my food. I always try something new and am gradually finding the ideal state. I can certainly take less at the start. From the start, I estimate I ate only half.
In conclusion, I'm glad to have met/gotten to know everyone, and perhaps we'll meet again somewhere in the future... And a big thanks to Darko for showing me the quickest way to the train 😂 Otherwise, I would have taken some hilly route.
Thanks to Juraj for the photos. Check out how the race looked from the photographer's perspective. And if you also look at last year's edition from the organizers' perspective, you'll have almost the complete story. If anyone wants to write something from a family's perspective, let me know 😅.
Race Stats
Total distance 598 kilometers
Elevation gained 13,118 meters
Time taken 51 hours and 40 minutes
Riding 88%
Average speed 13.1 km/h
Temperature min 11 °C, max 38 °C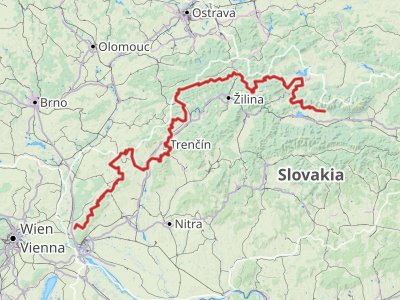 598km

Distance

13,118m

Elevation

51:40

Duration
Explore activity
Published August 13, 2022 | #Bikepacking #Races #ByHumanPower