Apidura Racing Top Tube Pack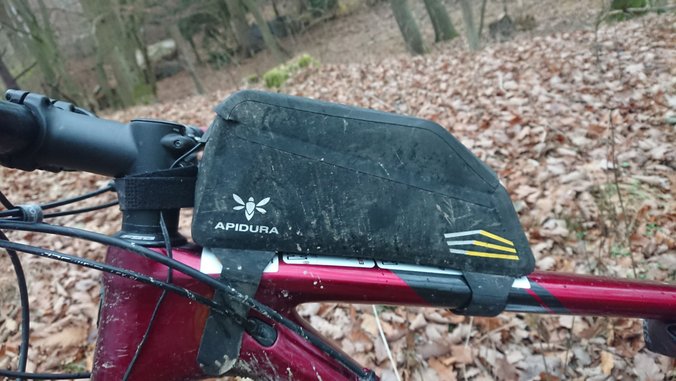 My favourite bags on a bike are those that are easily accessible. Within a second I can open it, grab what I need and close it. No time is lost. And that's very important as I try to be in a saddle as long as possible. There is nothing better than a lot of space in my cockpit. And this Apidura Racing Top Tube Pack should be a great aid.
My first experience with a magnetic closing system was a Mag-Tank 2000 made by Revelate Design. The opening and closing was incredibly simple and addictive. I could get access to a whole bag very easily. Without any zipper, there was nothing to stuck in it. To close the bag, I just punched it and the magnets found each other. If the bag was too full, the closing system was adjustable, so it was working with any load.
The only disadvantage was that the Mag-Tank 2000 is just too big and I couldn't fit a stem bags on my handlebars. So I found this smaller version made by Apidura. As it's from a Racing series of bags, it's light, waterproof and also expensive.
The British company is focusing mainly on gravel bikes. As I usually race with a mountain bike, it doesn't fit my frame very good. As you can see in the photo, I cannot close one of the velcro straps. And since it's not adjustable, it's just hanging there helplessly. On the other hand, it's stable on two other velcro straps and the bag isn't moving during the ride. It's more of a visual problem.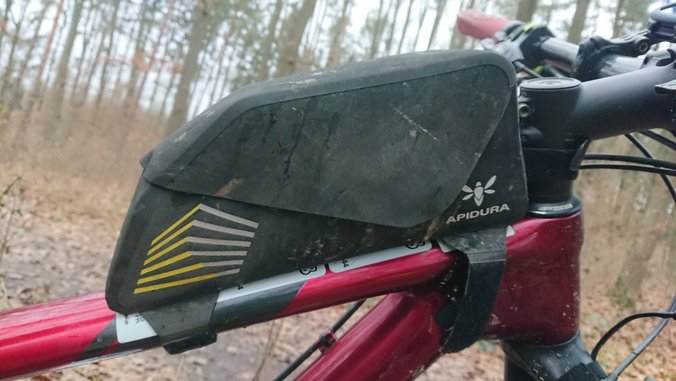 The whole bag is made from a waterproof material (as everything in a Racing series), but it's cannot protect your gear fully from the outside environment. I wouldn't worry that rain could go inside (unless you open it of course). But as there isn't any zipper, it's not protected from a wet air and mist or cold air. So in winter when you have a snack inside, count on it that everything will taste as icecream.
If you have a dynamo hub on your bike or you just want to charge your electronic on the handlebars, you will appreciate it has special access for cables. I would just warn you, that it's not a good idea to charge a phone inside the empty bag. Apidura claims the bag is cushioned, but when you hit a gnarly descent, it will send strong vibrations to your charging port as the device would moving around. It's not the fail of a bag, it's just general warning to be careful.
The Magnets
What should be the biggest advantage of this bag it's also its biggest disadvantage. The magnetic closure system is working at 95% correctly. But it's just not as smooth as bags made by Revelate Design. The more things you put in the top tube bag, the bigger the issue.
For several times, the bag seemed closed, but the magnets didn't fully engage and it opened during the ride! And that can be a big issue in descents or the dark. I had to be careful when using this bag, as I didn't want my belonging to flying around on a trail. And as I ride lightweight as possible, every item I take is crucial. I cannot lose anything.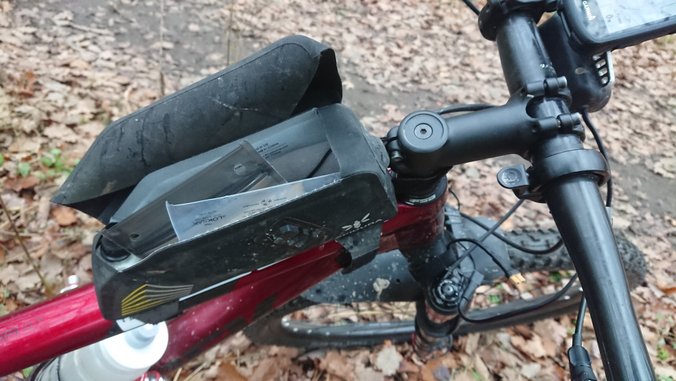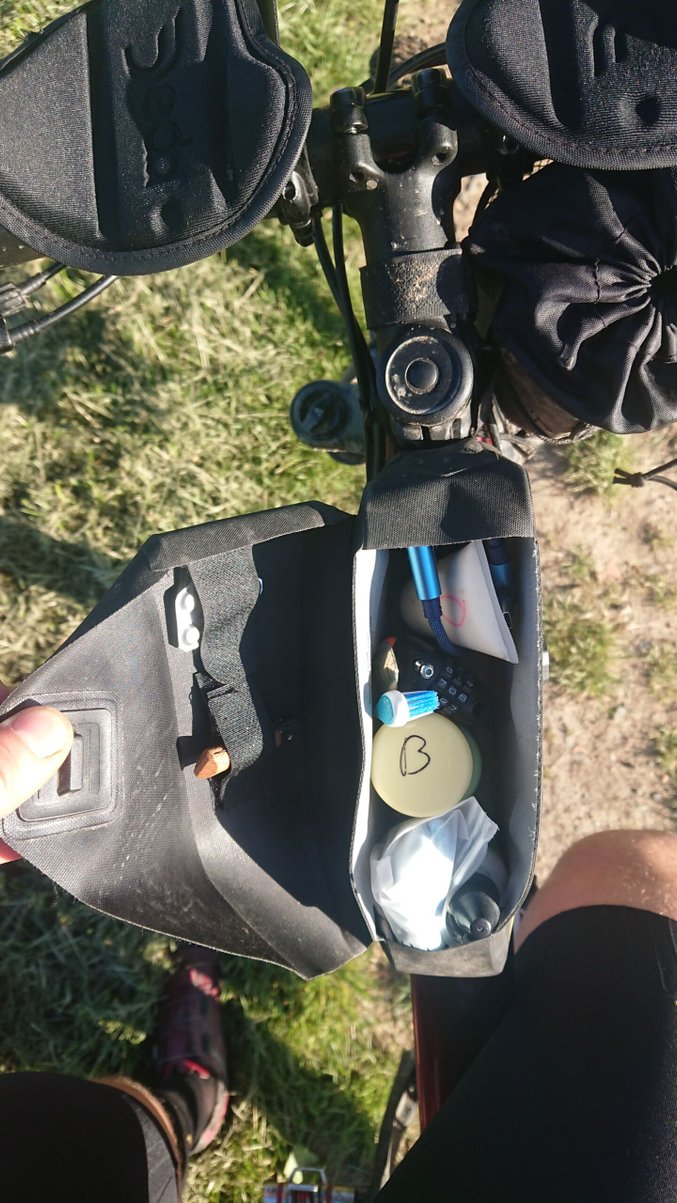 The official capacity is 1L and you can check by yourself what I can put inside. I even tried to fill the upper space using the sticky velcros. It didn't work very well as my things were falling off. But it was an interesting idea.
There is one more tip on how to use the construction of a bag. It has stiffeners on both sides. And you can put some small narrow items there. It could be emergency money or your documents. Great hidden pocket.
Unfortunately, I already lost some expensive things and basically stopped using the bag because of it.
Published December 29, 2020 | #Gear #Bikepacking #Bags