Hope 1000


Day #3 How I adapted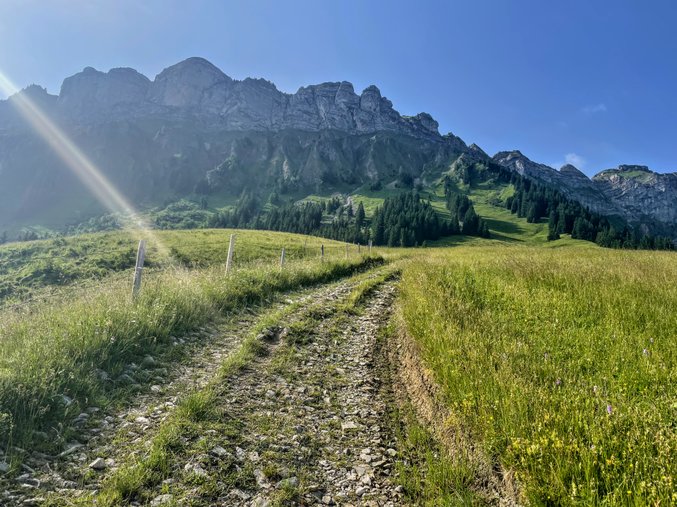 At 2am I was ready to go. 2 hours of sleep wasn't much, but the night was the best time to ride and I didn't want to waste it. Hot weather has offered me a kind face as I didn't shiver when I was getting up. My sleeping system was very simple and it took me only 10 minutes to pack it up. With a mouth full of food, I was tackling a gravel climb.
The fight against sleep has already begun. It usually starts with a weird feeling. I no longer see myself as a participant of the event, but as a person with a special mission. I can't explain what the mission is, but if I'm lucky, it includes riding my bike along the official route. The feeling is the most noticeable at night.
Until Änzisattel, the road was pleasant and rideable, but when I continued to Napf the path changed and it was full of roots and hard sections. It was, however, a nice hiking trail. On several occasions I had to really think, how do I even cross it with a bike. The decision to sleep was a smart one, since, as it turned out, it will be very hard to reach the depot.
It is one of the hard aspects of Hope 1000. As the race track progresses, it's steeper and the terrain is more challenging.
Not a local
At least the descent from Napf was fast and there was only one asphalt climb to go. I stopped at Entlebuch to get some food. At first, I saw a pizza vending machine! What a dream. I usually crave pizza during races, but I don't have the time to wait for it. Only problem was that my logical thinking was already so impaired by the lack of sleep, that I couldn't figure out how to order the pizza. There were no buttons!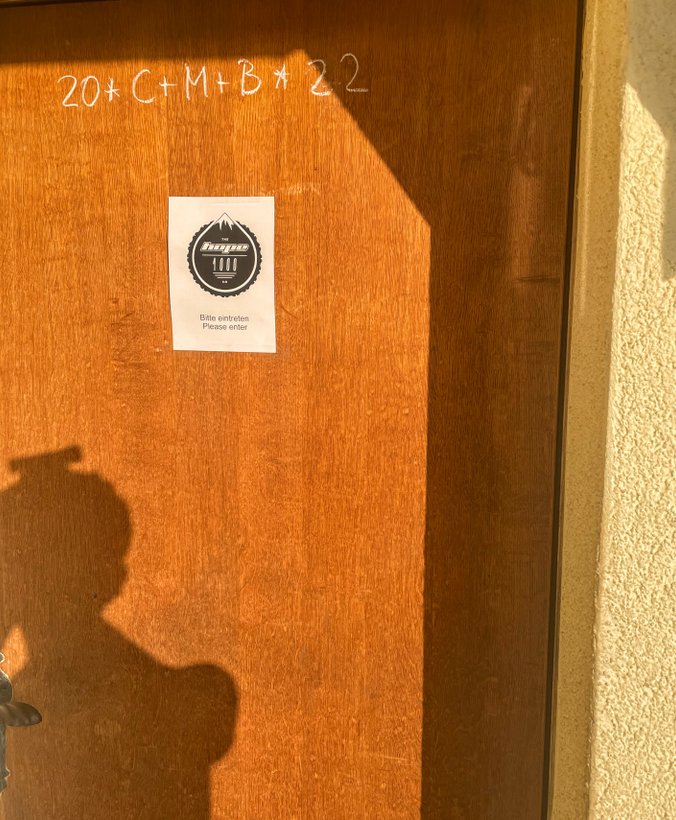 Luckily for me, there was an open bakery! I can't tell you what I bought, because I didn't know the name of it and I don't know it now. All my shopping usually consisted of pointing and saying ein, zwei or drei.
The climb to Finsterwald was steep, but I pedaled all the way to the top. I wasn't sure about the exact location of the depot – that was my terrible planning preparation – and I had to check the map and return a little bit.
There was no one there and I just saw a variation of the sign "Say friend and enter." My package was full of food which was a big problem. I bought more superior fresh food just one hour ago! It wasn't an easy task to stuff it all into my bags.
My second nemesis
It was only a 15 minute stop for me and I entered the second half of Hope 1000. It was an important milestone, but I knew that the second half would be harder. Harder but also more beautiful. I got really close to the high Alps and I was admiring their beauty.
I felt the remoteness of these lands, but I also felt very safe because I was crossing a lot of farms. There was always some place where I could seek help. Cows' bells were a calming orchestra and they were adding another layer of magic to this place.
Asphalt has changed to a wide gravel path with a lot of rocks so I had a proper mountain bike adventure. Temperature was rising, but my body has adjusted. Certainly, I wasn't in my best shape, but I felt much stronger than yesterday. I rode and pushed my bike with a relentless attitude. What could stop me?
After 8 hours I arrived to Flühli. I used a local water pipe to turn myself into a fish for a moment. I was completely soaked. After 10 minutes of rest, I went for another climb. I was doing pretty good. I had a few rests in shadow, but most of the time I pedaled.
When I least expected it, my second nemesis prepared to attack hard. It happened during the descent. I got so sleepy! My eyes were closing. My mind was shutting down. I went under the effect of the sleeping curse.
I tried to have a short power nap, but it didn't work as I wanted. I didn't find a good spot and I was just laying on the side of the road worried that someone would think I'm dying. I ended up continuing at the same zombie pace.
I got lucky on the uphill. I met a local Swiss guy on a bike, who was struggling like me. He didn't understand much of English, but I managed to establish a communication link. I explained to him that I'm crossing Switzerland with everything in my bags. As I showed him a map, he agreed that it wasn't the straightest way.
Unexpected meeting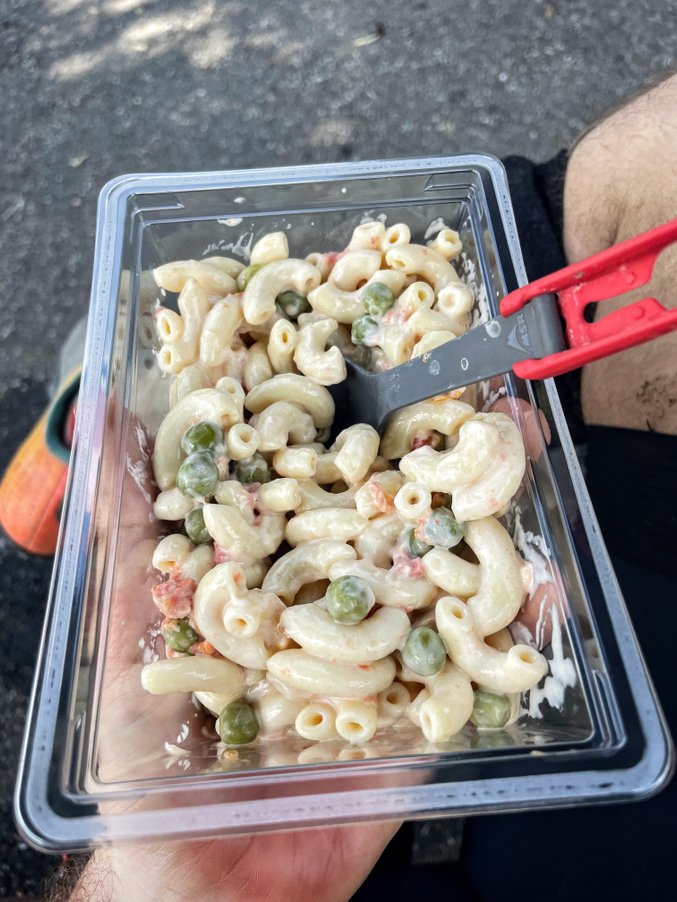 This short break gave me enough strength to jump on my bike once again and pedal this steep uphill. There were some trees next to the gravel road and it gave me a little rest from the burning sun. As I managed to get over the pass, my next destination was Schangnau. It was one of my best stops in the event because of
In Volg – the local shop company – I bought a cold penne salad. It was the best food in the heat! I should have bought multiple packages! Until the finish I was scanning my surroundings for the Volg to buy more of this amazing salad. Unfortunately, I was unsuccessful.
I said hello to a lady, which I saw on the climb from Flühli. Turned out that she knew about the race and asked if I'm the "Czech guy". Since she didn't understand English, our conversation was very simple, but It gave me a boost.
I haven't had time to lay around. I ate three nectarines and headed out to another climb.
Truth to be told as I look back, it's hard to remember which climb was which. I try to look at the map and refresh some of my memories. Where I stopped, where I was struggling and where I had some good moments. This time a picture helped me.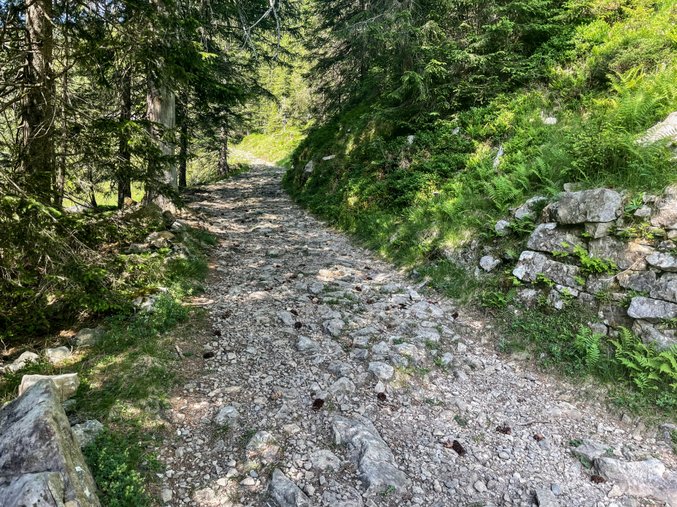 The terrain was getting harder and harder. On this climb I had problems even walking. My shoes weren't made for this. My cleats were squeaking and soles were sliding on rocks. After my experience in Italy Divide I used a locktight so screws of cleats weren't loosening. I wouldn't ride this stuff in my best shape.
It was dark when I arrived in the town of Lungern. I wasn't in a hurry so I pet a local cat on a town square. My pedaling quality was deteriorating and it was clear to me that it was time to sleep. After a few kilometers, I found a nice table, where I could lay down. It was the perfect spot to get a few hours of a good sleep. Or as I thought.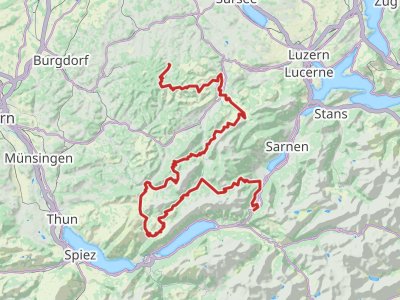 161km

Distance

5,844m

Elevation

21:23

Duration
Explore activity
Published September 25, 2022 | #ByHumanPower #Races #Bikepacking